MGHW at the Pink Palace Crafts Fair!
September 24-26, 2021
Audubon Park, Memphis, TN
MGHW at the 49th Pink Palace Crafts Fair with the demonstrating craftsmen.
Visit our booth in the demonstrating craftsmen's tent to shop for handwoven scarves, bags, household linens, small gifts, and more. See weaving on a floor loom and view a variety of small, portable loom types.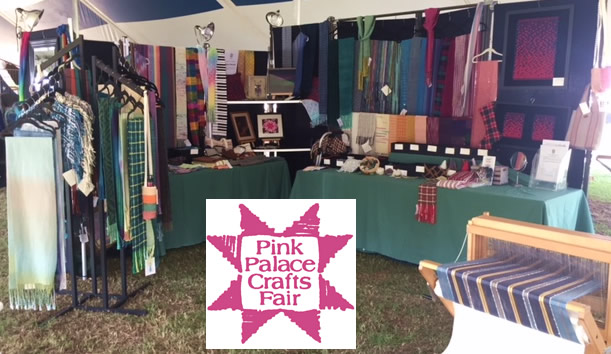 Monthly meetings include a short business meeting, educational program, and viewing of members' work.
Meetings are being held virtually via Zoom during the Covid-19 pandemic. Contact us for the meeting link.
The Memphis Guild of Handloom weavers was founded in 1947 but Viola Joyce Quigley and fellow students from the Memphis Academy of Art. Since then, the guild has held art shows, workshops with internationally reknowned instructors, classes for the public, and sales of handwoven goods.
We continue to promote the time-honored craft of handweaving into the 21st century.
The guild keeps an extensive library of over 300 books and videos on a wide variety of weaving topics. Members may check out media from the library.
The guild also owns 10 looms and a colections of smaller equipment and tools.
Library catalog
Membership
Enjoy the benefits of guild membership for $40 annual dues.
Monthly meetings with educational programs or social gatherings, or extended workshops
Participate in the guild booth at the Pink Palace Crafts Fair demonstrating craftsmen's tent.
Library of books, media, and equipment