Art from the Loom
MGHW Meeting
January 28, 2023, 9:30 am - Noon
Crosstown Concourse
Member Felicitas Sloves will share her recent visits to exhibitions of woven art:
Desire Lines, an exhibit by South African weaver Igshaan Adams at the Art Institute of Chicago
This Present Moment: Crafting A Better World at the Renwick Gallery of the Smithsonian
Kimono Style at the Met in NYC
Location: Crosstown Concourse, 1350 Concourse Ave, Memphis, TN 38104
Free parking in the garage in the back rows and upper levels; the first rows have a fee after 2 hours. Take the Central Atrium elevator to the 7th floor, turn right, and enter through the Parcels office. The meeting space has a Keurig coffee maker, tea kettle, and water fountain for hot and cold beverage needs.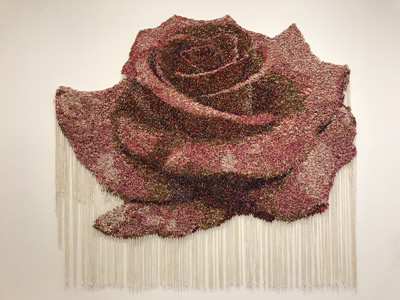 Oxford Fiber Festival
Friday & Saturday, January 20-21, 2023
9 am - 5 pm
Powerhouse Community Arts Center, Oxford, MS
Fiber art, classes, prizes, fellow yarn lovers, and vendors! Head down to Oxford, MS this weekend for the Oxford Fiber Arts Festival - full details at oxfordfiberfestival.com.
Coordinate with members for a day trip in our MGHW facebook group.

Monthly meetings include a short business meeting, educational program, and viewing of members' work.
We are finally starting to meet in person again, but our location does change from month to month. See specific information provided on the month meeting details.
The Memphis Guild of Handloom weavers was founded in 1947 but Viola Joyce Quigley and fellow students from the Memphis Academy of Art. Since then, the guild has held art shows, workshops with internationally reknowned instructors, classes for the public, and sales of handwoven goods.
We continue to promote the time-honored craft of handweaving into the 21st century.
The guild keeps an extensive library of over 300 books and videos on a wide variety of weaving topics. Members may check out media from the library.
The guild also owns 10 looms and a colections of smaller equipment and tools.
Library catalog
Membership
Enjoy the benefits of guild membership for $20 annual dues (Yes this is a reduction in annual dues since we continue to meet virtually).
Monthly meetings with educational programs or social gatherings, or extended workshops
Participate in the guild booth at the Pink Palace Crafts Fair demonstrating craftsmen's tent.
Library of books, media, and equipment