January Meeting!
January 22, 2022
We're 'on the road again' this month as several of us travel to the Oxford Fiber Festival with our own small looms. We'll demonstrate the projects we're working on, chat with folks who are interested in the looms we'll have with us (rigid heddle, inkle, triangle, potholder), and generally try to convert everyone who passes by into a new weaver! Oh, and there might be some shopping for yarn that just begs to come back to Memphis!
We'll look forward to returning to our regular zoom meeting in February and seeing everyone then! Happy weaving!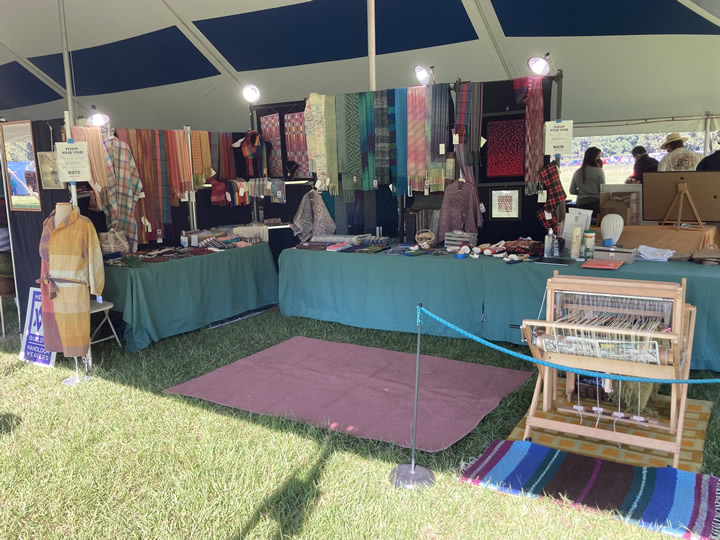 In December we had fun sharing our 'secret weaver' gifts and being amazed at the creativity of our members. If you weren't able to participate this year, there's always next year. We all loved Mary Anne's Scandinavian star done with inkle bands that we just might have to convince her to teach all of us how to make one.
Looking ahead: the challenge for this year's Pink Palace Crafts Fair is to somehow commemorate 50 years of the PPCF! Get those creative juices flowing now.

Monthly meetings include a short business meeting, educational program, and viewing of members' work.
Meetings are being held virtually via Zoom during the Covid-19 pandemic. Contact us for the meeting link.
Dates and location subject to change: Please check the
2021 schedule
The Memphis Guild of Handloom weavers was founded in 1947 but Viola Joyce Quigley and fellow students from the Memphis Academy of Art. Since then, the guild has held art shows, workshops with internationally reknowned instructors, classes for the public, and sales of handwoven goods.
We continue to promote the time-honored craft of handweaving into the 21st century.
The guild keeps an extensive library of over 300 books and videos on a wide variety of weaving topics. Members may check out media from the library.
The guild also owns 10 looms and a colections of smaller equipment and tools.
Library catalog
Membership
Enjoy the benefits of guild membership for $20 annual dues (Yes this is a reduction in annual dues since we continue to meet virtually).
Monthly meetings with educational programs or social gatherings, or extended workshops
Participate in the guild booth at the Pink Palace Crafts Fair demonstrating craftsmen's tent.
Library of books, media, and equipment