with Dianne Totten
Saturday, March 20 and Saturday, March 27, 2021
9am-4pm each day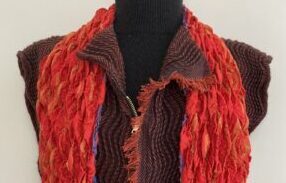 This is an on-loom virtual workshop taking fiber in a new direction by creating "crimp cloth."  Learn to create fabric with permanently crimped designs that hold their memory even when washed. Apply this stash-busting technique to any threading and learn the thought process that will lead to endless possibilities for creating magic cloth. Participants will draft, weave, and crimp their samples.  Learn how the fabric can be used for one-size-fits-all garments that flatter any figure, scarves and shawls that won't slide off your shoulders, and knit-look ribbing for a sweater or jacket collar. Garment design and sewing tips are included. Advanced beginner and beyond.
This workshop is held via Zoom. Participants work at their own looms in the location of their choice. Internet access and computer or mobile device with Zoom is required.
$50 members, $90 non-members (includes 1 year membership).
Pay online or mail a check to MGHW, PO Box 240661, Memphis, TN 38124-0661.